Indianapolis Indiana Portrait Artist Patti Trostle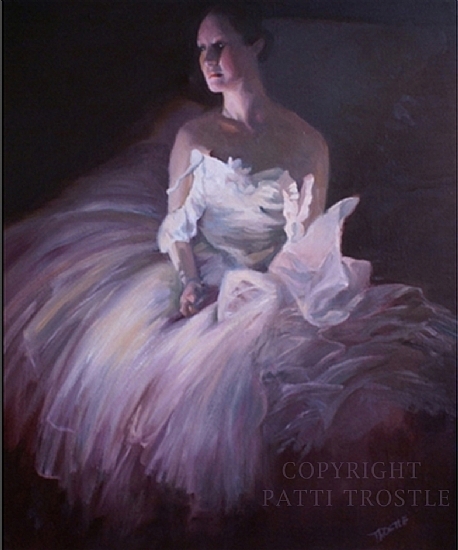 Indianapolis Indiana Portrait Artist
*
Oil Portraits | Landscape Oil Paintings
Still Life Oil Paintings
Business Portraits | Painting Commissions
*
The painting above is one of eight paintings and prints purchased by Warner Brothers Studios/Bonanza Productions that was used on the set of the television show "Past Life".
-------------------------------------------------------------------------------
Consider a custom oil portrait for your business,
wedding,anniversary,birthday,
graduation or any other special occasion.

A portrait of a child, grandchild, parent or grandparent, etc. is
something that will be cherished for generations.

A custom painting of a special event can capture a memory for a lifetime.

Give a one of a kind gift of an original oil portrait-painting-art print
to that special person or people in you life
for the home or office.
Indiana Commission A Portrait | Painter | Business Portraits
Family Portraits | Pet Portraits | Personal Portraits
Consultation
With the busy lifestyles of many people, the thought of trying to find the perfect piece of artwork for an area in their home or office can be overwhelming. To get a piece of artwork in the colors, size, theme (landscape,still life, figurative, etc.) and style can be very time consuming. Often times the person just does not know what to put in a particular area. I have helped many of my clients save time by allowing me to come to their home and/or office to discuss the paintings that will work best for them.. I have being doing commission work for twenty two years and will be more than happy to help you.

___________________
If you are interested in, or have a question regarding
a painting or portrait, feel free to contact me.
or
by phone at:

317.408.3089

Sign up for Patti`s Monthy Newsletter
Find out about what`s new at the studio.
Click on the "e-mail newletter" button
and give us your email address and hit "subscribe"and that's it!
You`ll be on your way to finding out monthly information about
new work from Patti and cultural events around Indianapolis.
_____________________________________________________________________________________________
Recent Collectors and Publications:
Patti`s work has been published in the book Hoosier Painters of the 21st Century . Author Mark Butterfield.
Featured in July 2011 Indianapolis Woman Magazine
*
Many paintings and prints were purchased to be used on the set of the televison show, "Past Life". Distributed by Warner Bros. Studio's.
*
Corporate collection of One America
Corporate collection of American United Life Insurance Company
Corporate collection of Baldwin & Lyons
James L. Beattey, IV - Collection of Indiana University